TESTIMONIALS
"My little ones absolutely love the hummus from ChicP! Feeding vegetables to toddlers is often challenging, but this particular brand of hummus has encouraged my children to try. They would have eaten the whole container in one sitting had I allowed it!" Customer
"Hummus went down an absolute treat - everyone loved it! They really couldn't have gone down better here -consistency and texture is perfect" RudeHealth
"We have absolutely loved working with ChicP and Hannah. They have a wonderful product and fantastic idea so we wish them all the best for the future. The feedback has been overwhelmingly positive - not only from our customers but everyone in the MC office who received Hummus in their boxes too. Delicious, feel-good food :)" The Mindful Chef
 "Love what you are doing" Thomasina Miers
"The hummus was absolutely delicious, everyone LOVED it, thank you so much. Office favourite is definitely the carrot one, great flavour" OPPO Team
"Everyone went NUTS!! They're absolutely delicious! It all went in one lunch... ALL of it!" Propercorn Team
"My boyfriend & I destroyed your hummus last night :) And I truly would love to support your company. Your cause & idea behind ChicP are so inspirational & I believe the future lies within companies like yours" CopeActive founder
"Funnily enough everyone in the team had a different favourite :) I'm crazy about the Green ones but there was something to please everyone" Liz @ Content Magazine 
"Cheers for the hummus today, sold out super quick and everyone was buzzing off it!! Must do it again soon!" Dash-Water
With Soffles Pitta Chips 'Ah the combination of all the flavours, that was like a roast dinner" MonkiGras Event  
"I set up a display in Darts Farm around 2pm and within 90 minutes had sold all 16 tubs that you'd sent down! Everyone I spoke to loved the branding, the concept and the products themselves". Darts Farm
"Thanks for the hummus! The marketing team absolutely loved it. The flavours are so unique - will definitely buy more in the future" Josh @ The Idle Man 
"I just wanted to let you know that I was just in London visiting my daughter and I went to the Whole Foods and bought 13 units to bring back with me. I remember you saying the product lasts in the refrigerator for 11 days but can freeze so upon coming home, I froze all but two which are currently in the refrigerator. I just wanted to let you know that the product is one of the most delicious I've ever had and would be happy to help bring it here. Take Care, Nancy" Customer
"I like to show my support. To be honest, your hummus prices are on par with other brands that I normally buy. ChicP also offers a range of flavour and twist that other brands often lack. Supermarket brands are alright but their flavours are a cliché. Your hummus range is the extra pallet to my taste buds!" Customer
"Delicious! Would love to see it in Waitrose" Savills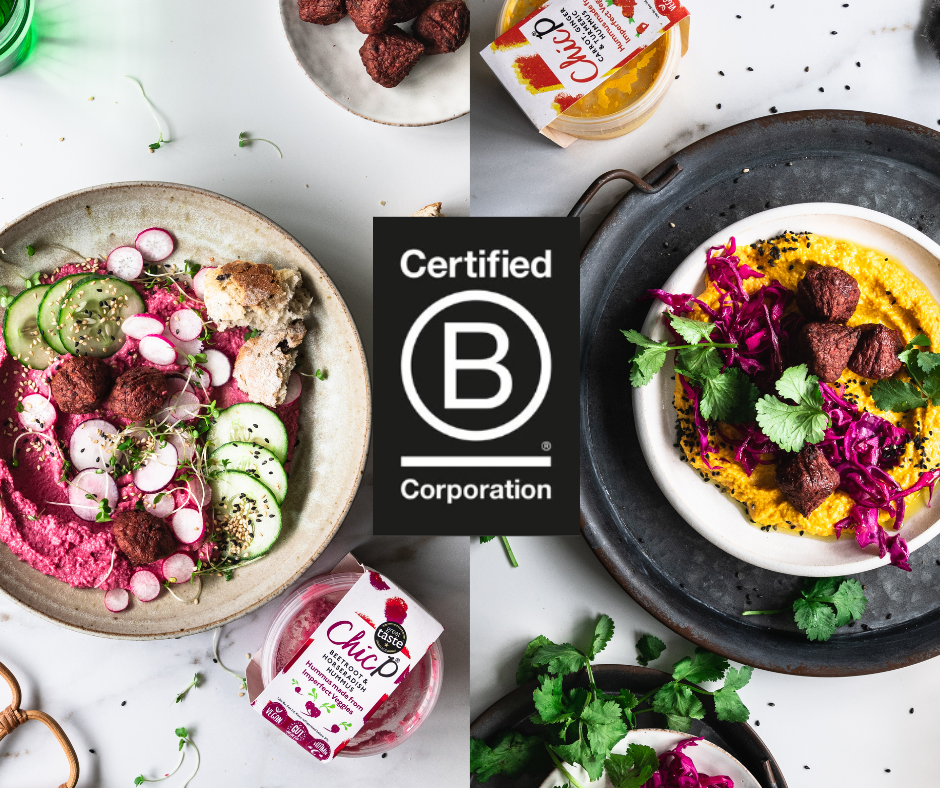 B-Corporation Certification
Certified B Corporations are businesses that meet high standards of social and environmental performance. B Corps are accelerating a global culture shift to redefine success in business and build a more inclusive and sustainable economy.
B Corp Certification is the only certification that measures a company's entire social and environmental performance. Certified B Corporations achieve a minimum verified score on the B Impact Assessment, proving their business is meeting the highest standards of verified performance.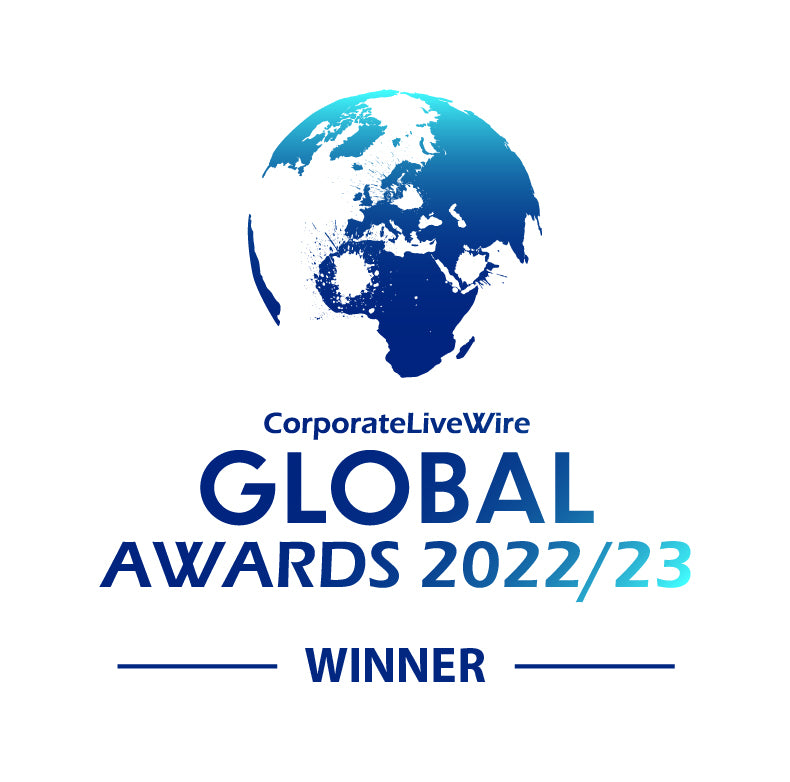 CorporateLiveWire Global Awards 2022/23
The research team put forward a selection of firms which they felt were deserving of recognition, out of 90,000 businesses and corporate professionals, magazine contributors, subscribers, companies & individuals. Companies were assessed by factors such as service, innovation, experience, sustainability and other key criteria. ChicP was amongst the few selected.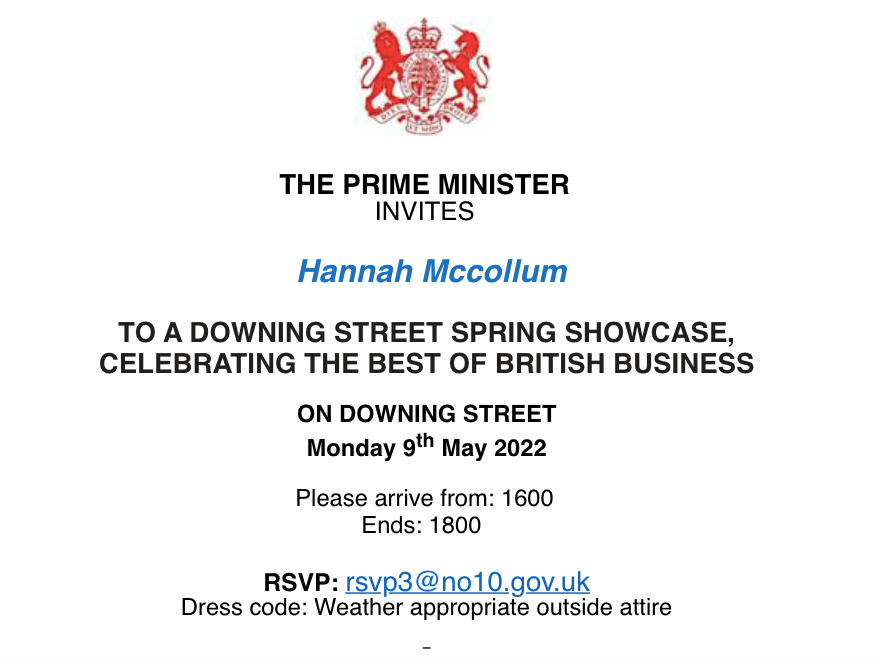 Invitation from Prime Minister
To a Downing Street Spring Showcase, celebrating 'The Best of British Business'.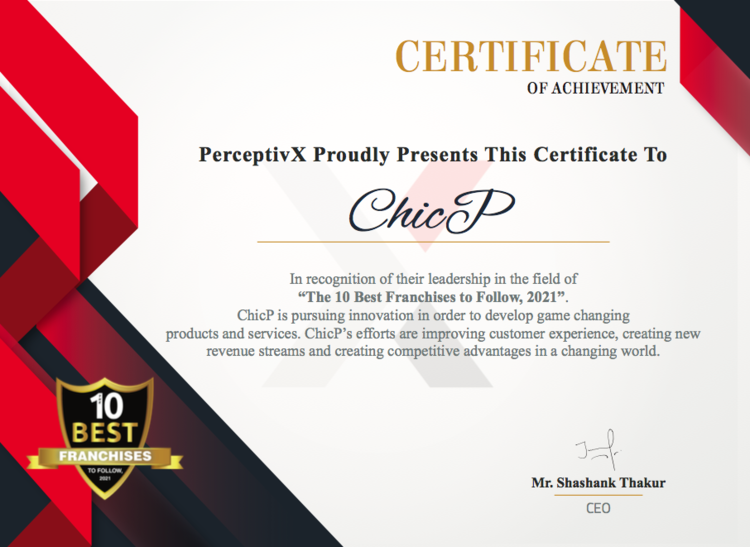 Top 10 Best Franchises to Follow
Hannah Mccollum discusses how ChicP changes the way people look at food. Click here to take you straight to the article.