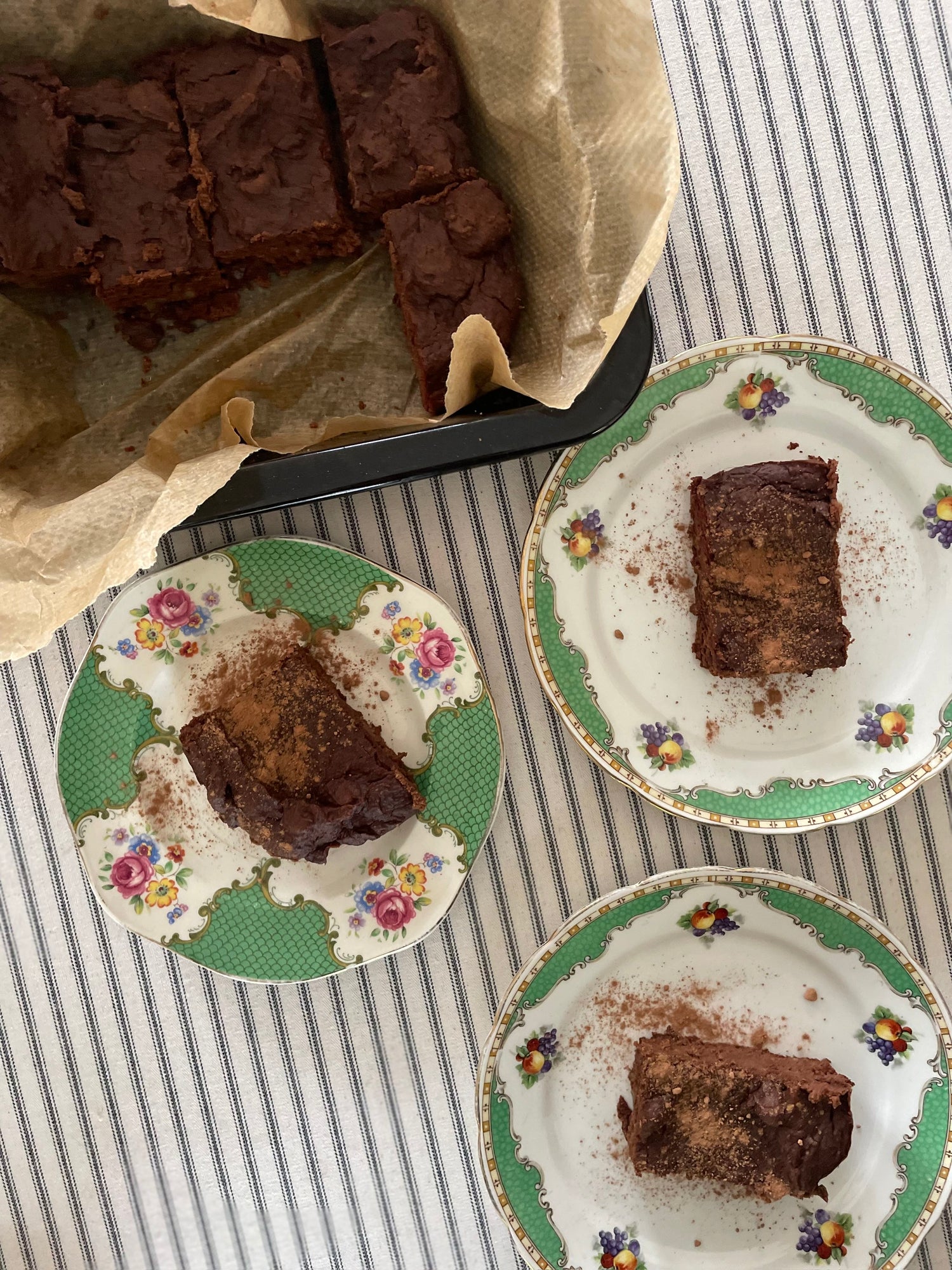 Chocolate hummus peanut butter and walnut brownies.
Ingredients
Brownie:
200g plain hummus
200g melted dark plant-based chocolate
1 large tbs cacao powder
2 tbs date molasses
2 tbs peanut butter
2 tbs walnuts
1 tsp baking powder
Tahini choc sauce (or peanut butter):
2 tbs tahini
3 tbs warm water
1 dsp peanut butter or date molasses
1 tbs cacao powder
Method
Start by putting the hummus into a big mixing bowl.  Then melt the chocolate in a sauce pan and adding the peanut butter while the chocolate starts to melt. Once the mixture is all creamy and mixed together, pour into the hummus mixture. Follow with the date molasses, baking powder and walnuts. Mix together then pour into a lined baking tray and bake for 45 minutes at 180c.
While the brownies are cooking, make the sauce by mixing the tahini and water together. Keep mixing until the sauce becomes smooth and light. It may need more water so keep adding until you get a sauce (that isn't too thick!) Follow by adding the peanut butter if you're using, and then the date molasses and cacao powder. You can heat this slightly if you'd like it warm. SO good. 
Both the brownies and sauce will freeze if you want to use them for another time.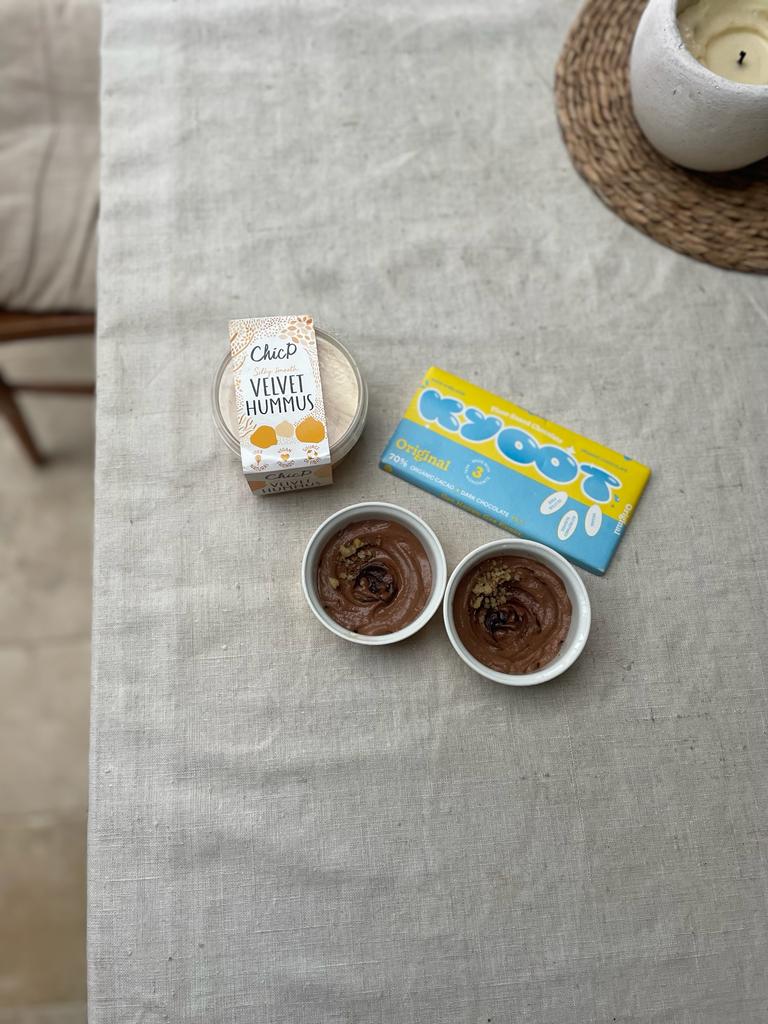 Chocolisous Treat with Kyoot
Ingredients:
1 pot velvet hummus
1 pack Kyoot dark choc
1 tbs chia seeds
1 dsp almond butter (optional)
1 tbs oat milk (optional)
1 tbs walnuts (optional)

Method:
Melt the dark chocolate on a medium heat , leaving a few squares to add later (so don't melt it all!)
Once melted, mix in the oat milk, chia seeds, walnuts and almond butter. Stir until smooth and then follow with the Velvet hummus.
If you don't have any hummus, blend 100g chickpeas, 1 tbs tahini and a dash of cold water to a blender and blend until smooth.

Once everything is folded in, pour into small ramekins and refrigerate to serve later, or serve warm and gooey straight away!!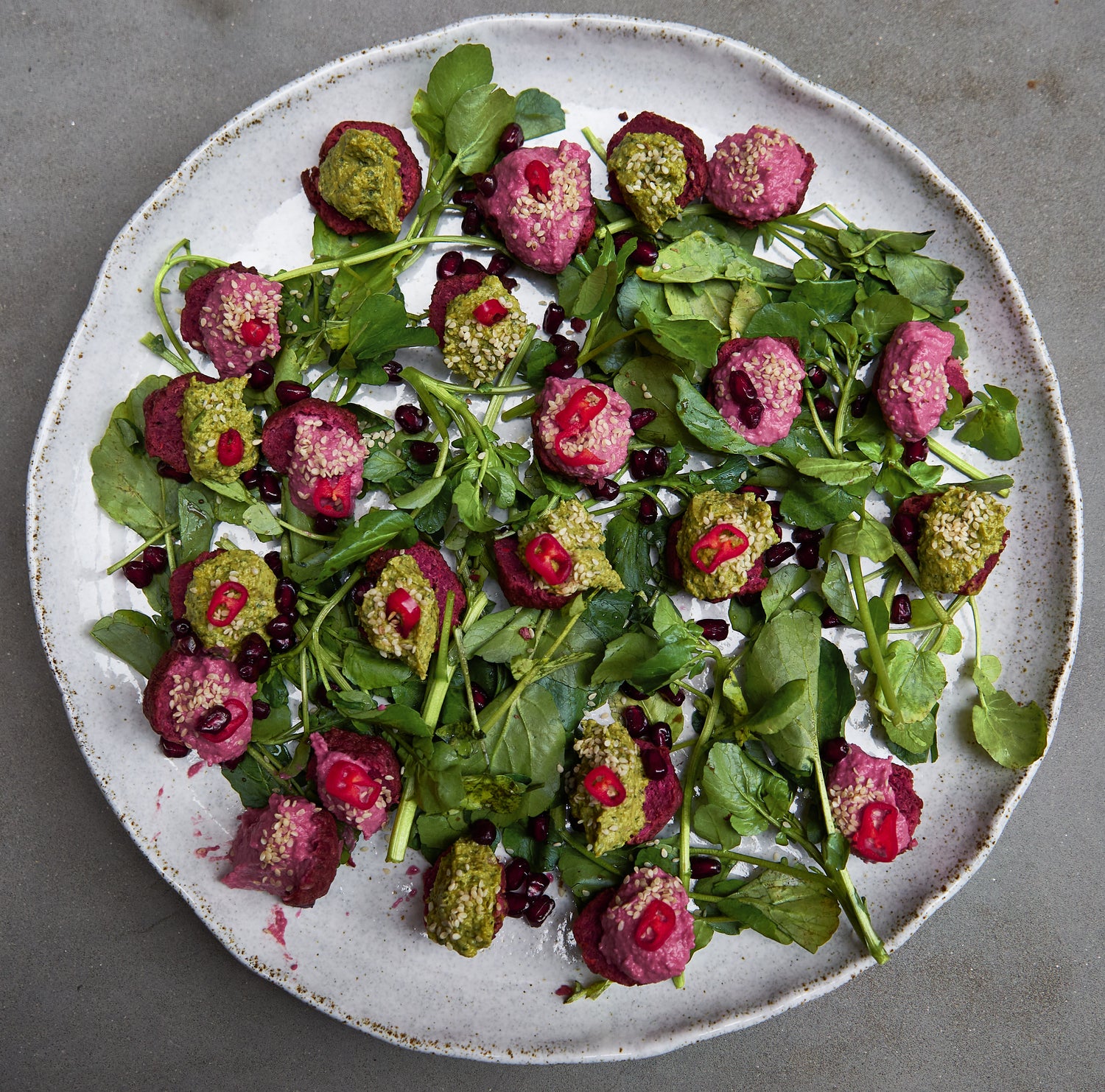 Easy Festive canapes: 5 minute Christmas Canapé in collaboration with Bettina's Kitchen.
Ingredients:
ChicP Sweet potato & rosemary Veggie bites
ChicP Spinach&Parsley hummusChicP
Beetroot & Horseradish hummus
Red chillies
Lambs lettuce or mixed salad and rocket
Sesame seeds and olive oil to garnish
Method:
Find a large serving plate and prepare the salad loosely over the plate.
Cut the veggie bites in half and place on to the plate; then dollop a mixture of both hummus over the veggie bites.
Cut the chilli into small cm pieces (you can replace chilli with cranberries, olives, nuts, capers), and carefully put on top of each one.
Sprinkle the sesame seeds and olive oil over and serve.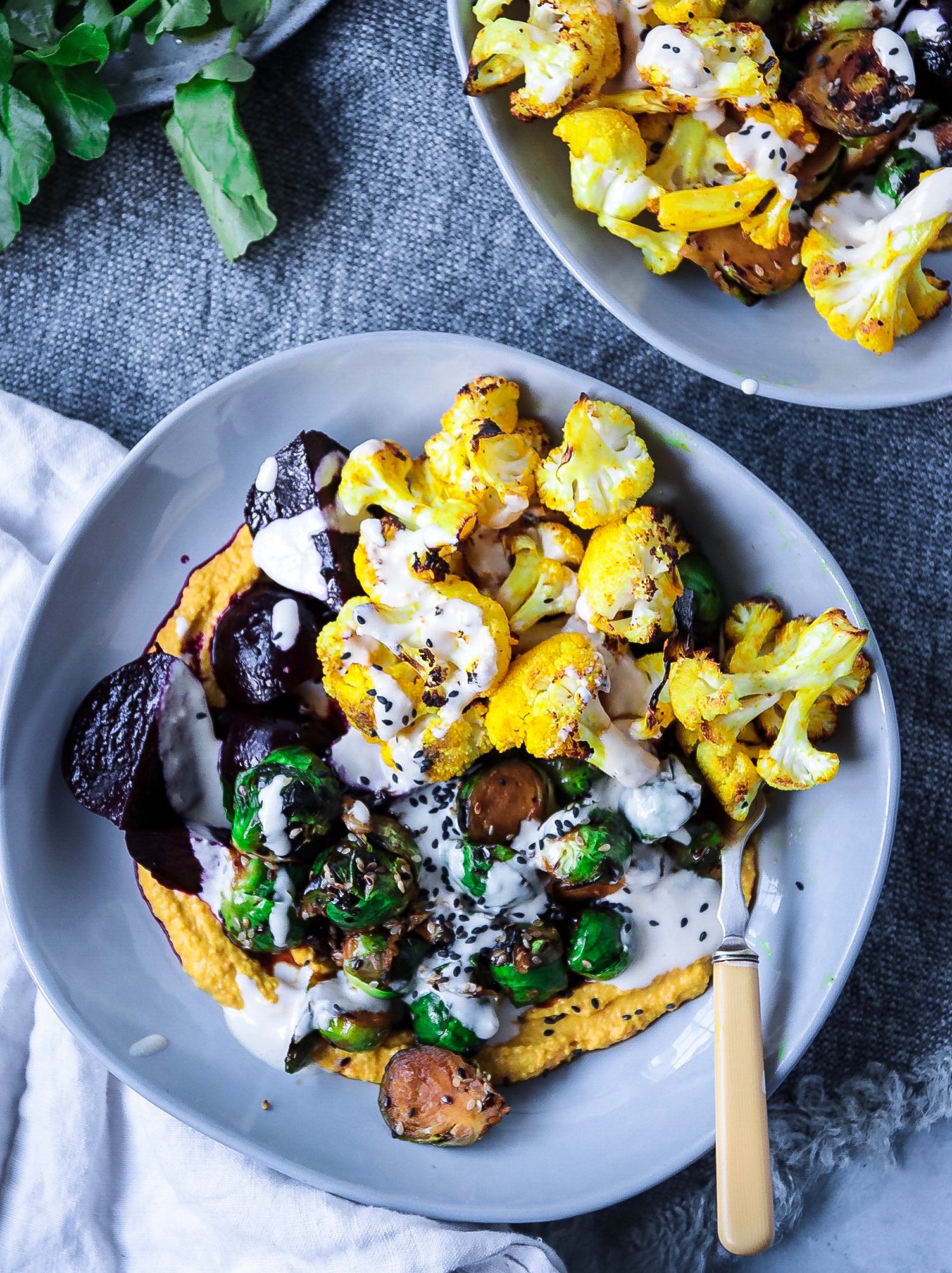 Roast turmeric & cauliflower winter salad with ChicP carrot, ginger and turmeric hummus.
Ingredients:
1 cauliflower
500g sprouts
2 beetroots (washed and chopped into wedges)
2 pots of ChicP carrot, ginger & Turmeric hummus
1 tbs tahini
1 tbs lemon juice
1 tbs turmeric
Handful of nigella seeds
Olive oil
S & P
Method:
Preheat the oven to 180 degrees celsius.
Chop the cauliflower into florets and place on a baking tray. Pour over the turmeric
Prepare the beetroot and put the sprouts and beetroot onto another baking tray. Lightly pour over some olive oil and season.
Place into the oven to roast for 45 minutes.
While the veg is cooking, mix the tahini with the lemon juice and 1 tbs of cold water. Mix thoroughly until you have a light paste. Add more water if it gets to thick.
When the veg is cooked, plate up the hummus to create a nice base - half a pot for each plate. Top with the veg and the tahini dressing.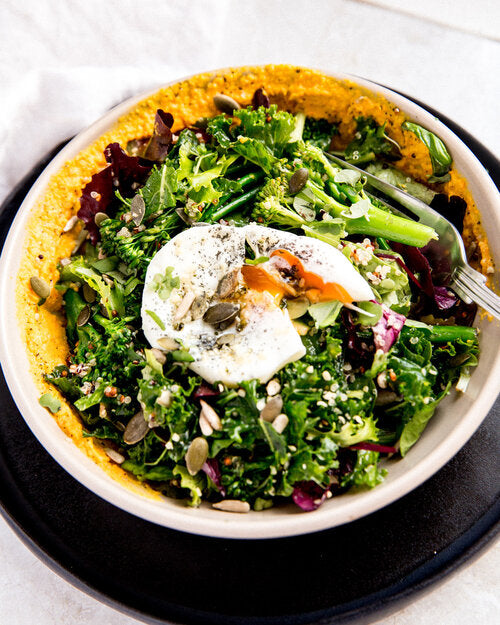 Breakfast salad with ChicP carrot, ginger & turmeric hummus
Serves 2 | GF DF
Ingredients:
2 tbsp hummus
1 cup kale
1 cup salad mix
1 egg
1 cup broccolini
1/4 cup quinoa
Olive oil
2 tsp apple cider vinegar
Pepitas
Sunflowers seeds
Hemp seeds
Volcano salt
Method:
Rinse the quinoa and cook in boiling water for 10 minutes. Pan fry the broccolini in a little olive oil and set aside.
Boil water with a splash of olive oil and salt. Crack an egg in a small dish and place into the boiled water. Cook for 2 minutes and place aside.
Massage the kale in some olive oil and apple cider vinegar until softened. Mix together with salad mix, seeds, broccolini and quinoa.
Smear ChicP Hummus on the dish, add salad mix and top with poached egg. Sprinkle some volcano salt to poached egg for an extra salty taste.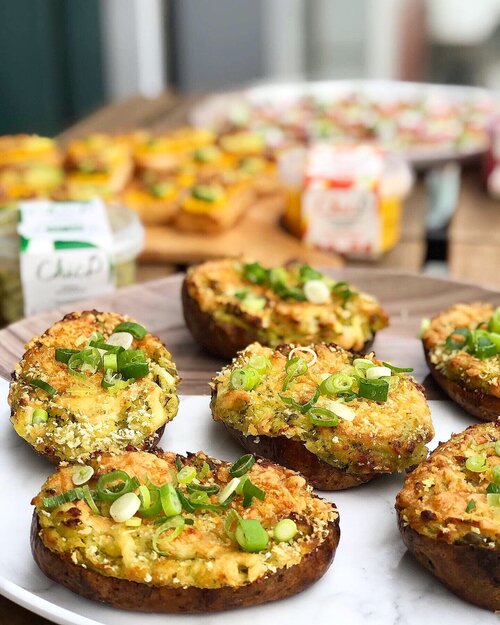 Herby Loaded Potato Skins using ChicP Herby Hummus
Ingredients:
1 170g pot of ChicP Herby Hummus
3 large potatoes (I used vivaldi potatoes)
250g cheddar cheese, or a dairy free option, shredded
1/4 cup bread crumbs (I used panko)
1/2 cup spring onion, chopped, and some extra to garnish - Salt and olive oil.
Method:
To bake the potatoes:
Preheat oven to 180 degrees celsius. Coat the potatoes in olive oil, season with salt and prick with a fork all over to avoid them bursting in the oven.
Place on a baking tray and cook for 2 hours. Once cooked, allow to cool slightly before cutting in half.
To make the Herby Hummus filling:
Scoop out the potato from the skins and place in a mixing bowl.Mix in the tub of herby hummus, cheddar, spring onions and season with salt.
Mash it all in together, and fill up the potato skins. Top with the remaining cheese and breadcrumbs.
Place back into the oven and bake for 20 minutes until golden brown.
Garnish with the remaining spring onions and serve.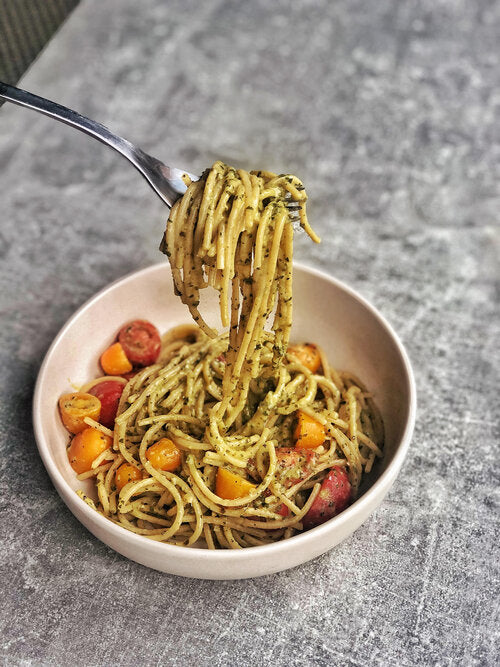 Herby Hummus Spaghetti
Ingredients:
250g cherry tomatoes, or any you have at home
110g dried spaghetti
1 pot herby hummus
1 tbs lemon juice
Olive Oil
S & P
Method:
Preheat the oven to 180 degrees Celsius. Chop the tomatoes roughly and lay them on a baking tray. Drizzles over some olive oil and season.
Place in the oven to roast for 30 minutes.
Boil water on a medium-high heat with a pinch of salt, and cook the pasta to your favoured texture (around 10 minutes)
Meanwhile, loosen the herby hummus with some olive oil and lemon juice in a bowl.
When the pasta, and tomatoes are cooked. Drain the pasta, keeping some of the pasta water and mix all the ingredients in the pasta pan. When the pasta and tomatoes are fully covered in herby sauce you are ready to serve!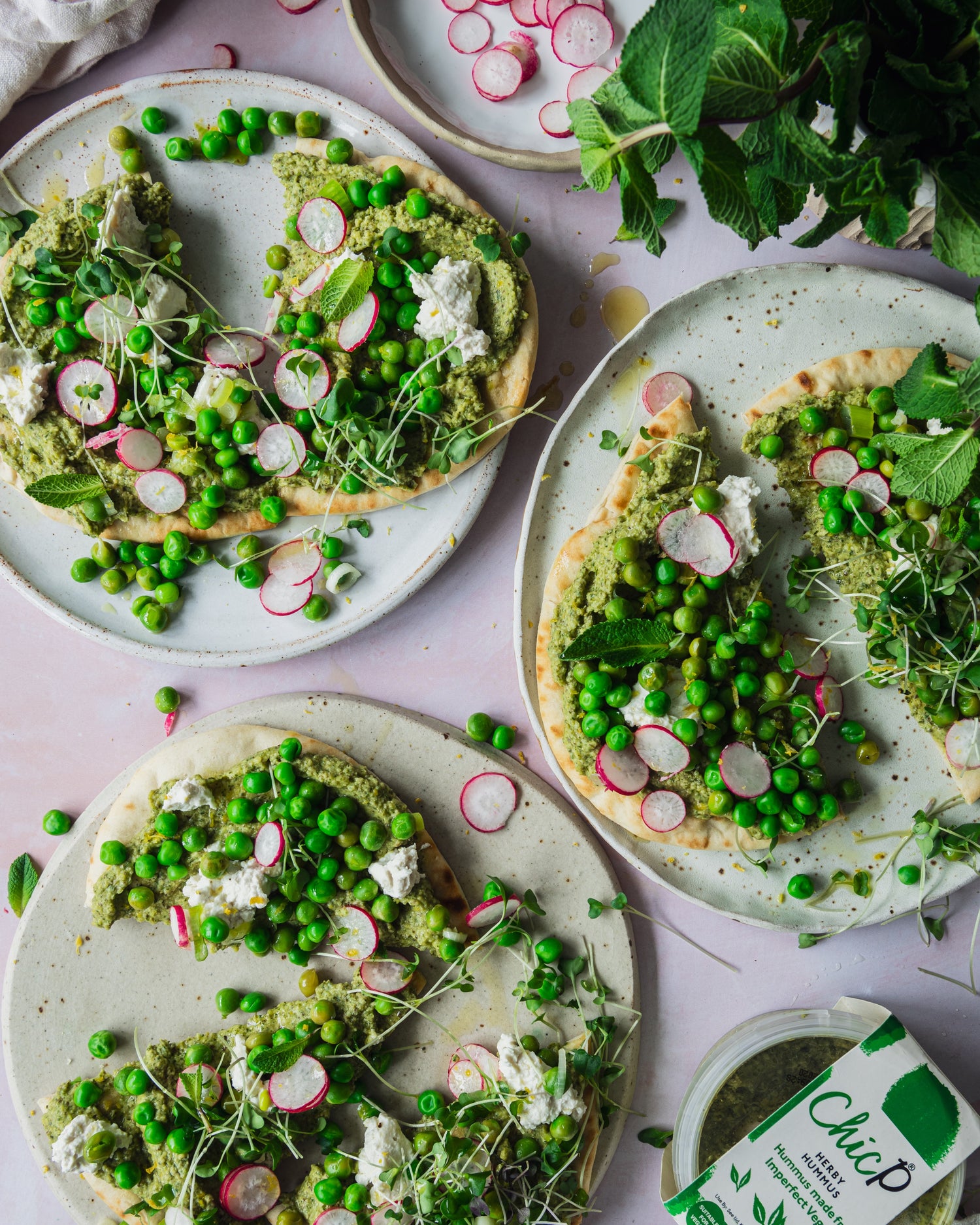 Lemony peas and radish with ChicP herby hummus
Ingredients:
170g peas blanched
2 tbs extra virgin olive oil
2 spring onions finely sliced
A few sprigs of fresh mint
Zest 1 lemon
2 small flat breads
To serve
6 radishes thinly sliced
75g vegan cream cheese, I like Nush foods
Micro herbs
Extra virgin olive oil
Extra mint leaves
1 tub herby ChicP hummus
Method:
In a bowl combine the blanched peas, oil, spring onions, roughly chopped mint leaves, lemon zest and season with salt and pepper and set aside.
Heat the flat breads in the oven until lightly crisp.
Spread the herby hummus onto the flatbreads and top with little dollops of cream cheese, the pea mix, radishes and micro herbs.
Finish with a little extra mint leaves and drizzle with extra virgin olive oil.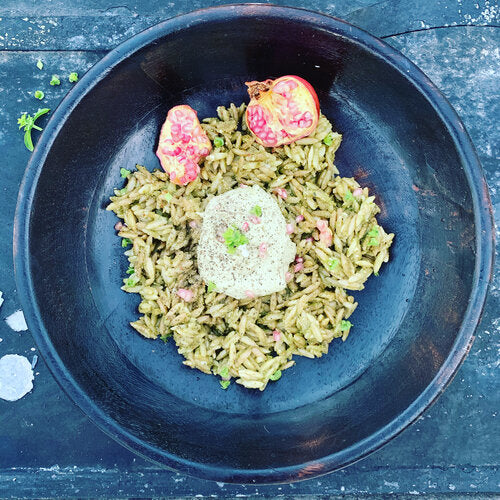 Wild garlic and nettle orzo risotto
Serves 4 | vegan
Ingredients:
2 handfuls wild garlic
400g nettle (taken off the stalk and boiled for 3 minutes)
400g orzo
900ml homemade vegetable stock
1 tbs olive oil
1 large chopped onion
1tsp turmeric
Method:
Heat the oil in a pan on a medium heat until soft. Add the turmeric for the last few minutes.
Add the orzo and mix well until all the orzo is nicely coated.
Slowly add the stock, a quarter at a time and the cook on a medium-low heat.
Stir regularly until all the liquid has been absorbed and the orzo is tender but with a little firmness in the centre.
Add the nettle and garlic to the orzo and stir for a few minutes until hot and bubbly. You may need to add a little more water.
Serve immediately - I like to top this dish with my wild garlic and kale pesto.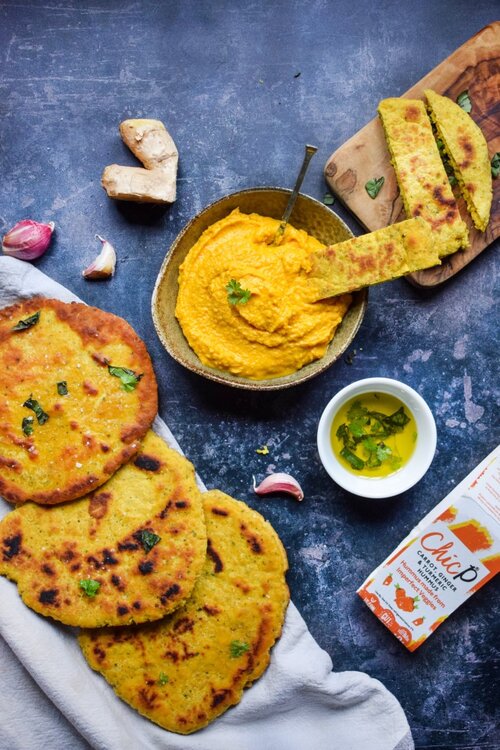 Lets Eat Smart Recipe: Vegan Turmeric, Ginger & Garlic Vegan Flatbreads with ChicP
Serves 2
Ingredients:
130 g plain flour
1 tsp baking powder
1/2 tsp sea salt
1 tsp turmeric
1 tsp ginger
1 tsp basil
1 garlic clove, minced
1 tbsp olive oil
1/2 tsp golden syrup
90 ml cold water
vegetable oil
Method:
In a large bowl, combine the flour, baking powder, salt, turmeric, ginger and basil. Once combined, add the garlic, olive oil, golden syrup and most of the water (save a little to add later as necessary).
Mix using a silicone spatula to form a dough. If the dough seems a little dry, add the remaining water. Knead for 4-6 minutes then transfer onto a floured work surface, cover with a clean tea towel and leave for 5 minutes.
Divide the dough into four (or 2 if making larger ones) pieces. Dust each piece in a little flour and roll into a disc.
Add two tablespoons of oil to a pan over medium heat. When the oil looks shimmery, add a flatbread and cook until golden on one side, flip and cook until golden on the second side (1 to 2 minutes on each side).
Once cooked, transfer to a plate and cover with a clean tea towel to keep warm. Continue with the remaining flatbreads and if the pan looks a little dry, add a bit more oil before continuing.